Castiglione Consulting - "Business-, People- and Change Support"
I am happy to take this opportunity to introduce myself and my company shortly. My name is Leonardo Castiglione. I am a management consultant, certified coach, book author and owner of Castiglione Consulting. I would describe myself as an "implementation coach".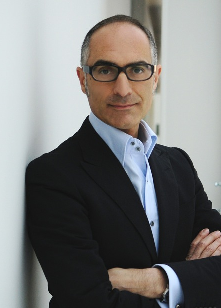 For more than 20 years I work as an external / internal management consultant and gained 16 years of experience in the telecommunications industry within this time. Prior to my self-employment, I spent many years working for a mobile phone service provider as department head with leadership and employee responsibility. I was in charge with the implementation of large strategic projects. My focus is on change management, business process management and business-coaching. I am registered in the KfW consultant forum for the consulting product "Gründercoaching Deutschland".

My company - Castiglione Consulting - based in Hamburg, is specialized in management consulting and coaching for all phases of corporate and personal change.
We are targeting SMEs and start-ups as well as entrepreneurs, executives and their teams that are in the process of change and want a professional implementation support for the corporation and / or the people side of change.
Our philosophy in our holistic and integrative consulting approach is to move the human being into the focus of these processes of change and to involve them from the beginning. It does not matter if a reorganization is conducted or whether a large project has to be implemented successfully. With this approach we achieve fewer project delays and an overall higher productivity. We see every change as a challenge and opportunity.
Our experience in the context of a network partnership is made up of national and international projects in the following sectors: energy / renewable energy, health, telecommunications, IT, public administration, high technology, logistics, transportation, aviation and aerospace.

We work goal-and solution-oriented. Our many years of management know-how and our deep knowledge of change management and business process management guarantees a high level of practicality and quality of advice. Our coaching methods are efficient and ensure rapid progress in your personal change process.

In other words, we will ensure the professional support of organizational processes and people in the context of changes - so that our slogan says simply.

For questions on specific issues please don't hesitate to contact us.
We look forward to meet you personally in a first informal conversation, and of course free.
Yours sincerely,

Leonardo Castiglione

Castiglione Consulting
"Business-, People- and Change Support"
Hamburg/Germany
Phone:     +49-40-593 70 953
Fax/UMS:  +49-32-224 16 57 80
E-Mail:      This e-mail address is being protected from spambots. You need JavaScript enabled to view it
Internet:  www.castiglione-consulting.de
Download:      company presentation (PDF 80KB)
"Change is constant – change is opportunity"